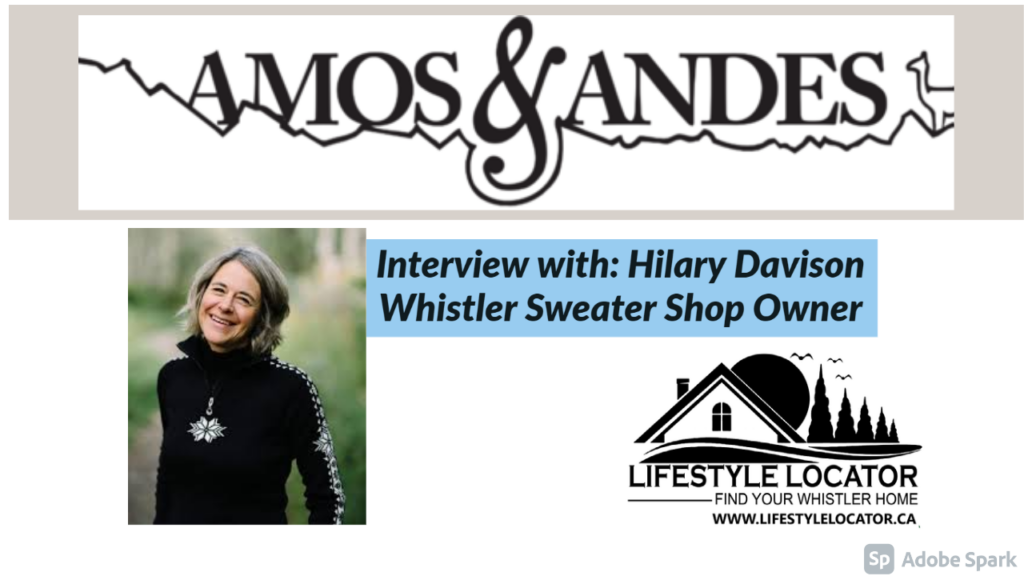 Enjoy this in-depth Whistler business interview with Amos & Andes – Whistler Sweater Shop Owner / Manager: Hilary Davison. YouTube Link to Interview: click here
Hilary grew up on a farm in England wearing jeans, T's, and SWEATERS her Granny made.
She never imagined leaving the beautiful rolling green hills and a drafty British home. However, she left in 1988 and here we are in one of the most spectacular places on the planet, amongst acres of snow-capped mountains, lakes, rivers and forests. Like most Whistler residents, she loves to ski in the winter and mountain bike in the summer; however, she has plenty of friends here who do neither, it's just a great place to enjoy!
Hilary opened Amos & Andes Whistler in 1994. Her unique, signature shop is easy to find along the Village Stroll. It's great for Hilary and her team to welcome the many repeat global visitors and local customers. Also, in recent years, she has expanded to reach out to connect with you via the internet via easy order process through the website, subscribers to the Newsletters and following updates on many social media accounts.
The Whistler Sweater Shop is open and following Covid-19 health protocols. Although, if you cannot see them at the moment, please order from Whistler's favourite, unique, friendly store, Whistler Sweater Shop, on line to keep the memory, close and warm.
Whistler Sweater Shop Website: https://whistlersweatershop.com/
Also, visit Hilary's rental vacation properties via Facebook Business Page:
Essential Vacations …. offering wonderful places to stay, following Covid-19 protocols
Extra Note – Winter Season, 2020-21: connect with Kathy White via email: [email protected] or call: +1 604-616-6933 and we'll schedule a coffee and chat for around 30 minutes to discuss real estate in Whistler or for other regional area of BC. Then, happy to mail you some delicious www.crankedcoffee.ca delicious Detour coffee as a thank you gift.